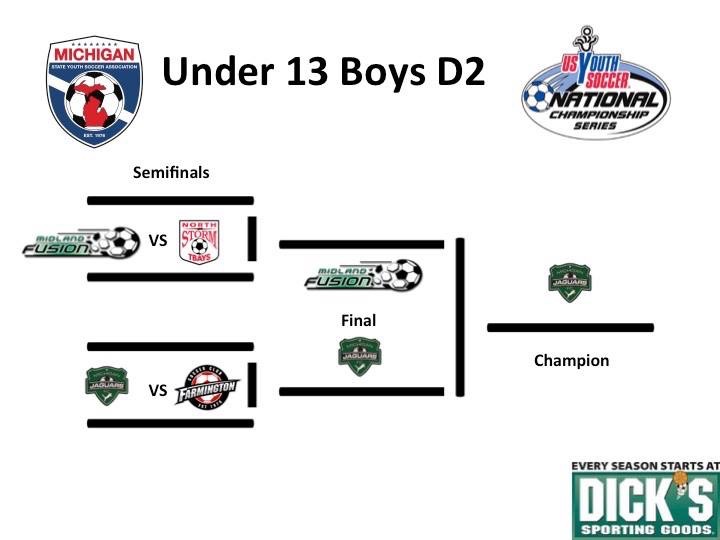 Players- Lance Colemen, Jonah Dahn, Frake de Smet, Luke Johnson, Brennan Mahokey, Williiam McGahey, Ian Metzler, Landen Miller, Nicholas Pisarczyk, Tyler Sanchez, Justin Schafer, Issac Skinner, James Snead, Carson Snyder, Drew Soto, Andrew Steger, Joshua Turlow, Bobby Vanvalkenburg, Jack Wolohan, Coaches: Doug Dahn, Mike Coleman
MSYSA State Cup Runner-Up
The 04 Fusion Green Boys made it to the Finals of the Michigan State Youth Soccer State Cup before falling 4-3 to the Michigan Jags CW3 team on Sunday, June 4th.
The team, Coached by Doug Dahn, started their state cup journey finishing 2-1-0 in group play and by vertue of their overall goal differential, secured the only wild card spot in the 28 team tournament and gained a quarter final spot and a match up with United FC of Grand Rapids. A 6-2 victory propelled the boys into the semifinals and a match against Traverse City T-bays and a June 3rd, 8:30am semi-final kick.
In a tighly contested match, MSC went up 2-0 early and held that lead into halftime. A goal by the T-Bays 10 minutes into the second half made the score 2-1 and lead to some tense moments in the final 20 minutes before the whistle blew but when all was said and done, the Fusion 04 boys came away with a hard fought 2-1 victory and a date with a Michigan Jags team that had run over opponents by scoring 31 goals and allowing only 7 to this point in the tournament.
On June 4th at 8:00am, an exciting finals match kicked off. The Fusion boys scored to make it 1-0 with the Jags coming back to score 2 quick goals and take a 2-1 lead and Fusion answering to tie it at 2 going into halftime. In the second half the Jags took a 3-2 lead and then, on a Fusion free kick that ripped the back of the net, the referee called a foul and disallowed the goal. One minute later the Jags increased their lead to 4-2. A goal with 10 minutes left put the Fusion team back into the game and with one final push in the final 3 minutes, a Fusion shot smashed off the crossbar.
The final score ended 4-3. We are extremely proud of our club and of the 04 boys for such a thrilling run in state cup!!! #MSCway