George Hageage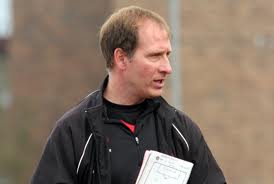 George Hageage is the Technical Director of the Midland Soccer Club. He brings to Midland 17 years of coaching experience at the NCAA Division I level and brings has been coaching youth soccer since 1990. Coach Hageage's youth coaching experience includes 2 former club directorships, State ODP Head Coaching experience and he is currently an Academy Staff member for the United Soccer Coaches (formerly the NSCAA).
Coach Hageage's primary focus is making MSC a club modeled on player development. This model features a comprehensive curriculum that runs through the entire club, tying together the Recreation program with the Fusion/ Select program, to create an atmosphere that is optimal for player development on the pitch and off.
George's Bio
Coaching/ Club Directorship Experience
Michigan State Youth Soccer Administrator of the Year 2017

17 years as a Division I women's coach (14 years as a head coach)

Eastern Washington University 2000-2014

University of Toledo 1997-1999

Big Sky Conference Coach of the Year 2004

33 years as a club coach

Spokane Shadow

State Cup Champion - Girls U16 ('96), 2013

River City SC

Co-DOC- Blaze Soccer, Toledo Ohio (became GTFC)

Pacesetter Soccer Club

Lake Erie Champions - Boys U17, U18, 1993-94

Ohio - North ODP NW District Coach 1998 - 2000

Ohio- North ODP State Team Coach 1998-2000

United Soccer Coaches Academy Staff (2006 - present)

NSCAA Region 12 Director (2004 - 2010)

Author of "Building a Succesful Soccer Program"
Education
M. Ed. University of Toledo

Master Diploma - NSCAA

U

S Soccer "B" License

Premier Diploma with distinction - NSCAA

Advanced National Diploma with distinction- NSCAA

National Diploma- NSCAA

Director of Coaching Diploma - NSCAA

National Goalkeeping Diploma- NSCAA

League Managers Association (English FA)- Certificate, Building a Winning Culture

Celtic FC Development Certificate